Alsace
Discovering the Wines of Alsace
Alsace has a long tradition of winemaking. The history and traditions of Alsace are just like its wines - complex and varied. A touching vineyard, of breath-taking beauty, which makes clever use of its contrasts to produce fine, delicate wines which go just as perfectly with the local gastronomy as with modern cuisine and fusion. Dive into a world of tradition and modernity. Experience a moment - quite literally - out of time, on the trail of the wines of Alsace and of its noble hills.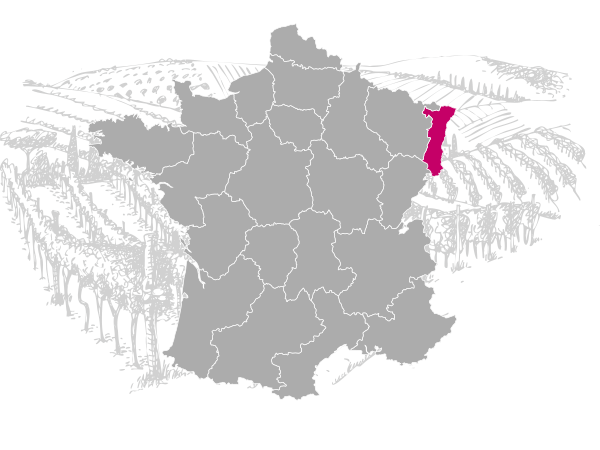 Our TOURS
→ Our tours in small groups
Escape the city for a day or an afternoon! Departing from Starsbourg, Colmar, Mulhouse, Basel, join us for a wonderful moment around wine. Our tours are designed to take you out of time, into the heart of one of the most beautiful wine regions in the world.

Tours in modern minivan with all mod-cons to experience Alsace and discover the world of wine in gorgeous landscapes and wineries.

- Small groups: up to 8 people
- Recent van with all mod-cons (Air Conditioned)

→ Our private tour
As a couple or with friends, come enjoy tastings and other activities specially privatized for you! Fun activities that will allow you both to have a good time but also to discover the heritage of the region.

Do you have questions? Contact us !
→ Our tasting workshops
Our Tasting Workshops.
Experience an authentic and original moment. Join one of our events or themed wine tasting workshops. We'll come to you or to a place of your choice for your private or corporate events. A birthday party, a weekend with family or friends, a special occasion… we'll grace your palate with unforgettable tastes and flavours.


OUR EVENTS
Nous vous proposons des ateliers et animations autour des vins d'Alsace pour tous vos événements. Particuliers ou privés, vous trouverez forcément une formule qui vous plaira. Découvrez vite nos nombreux ateliers et circuits en Alsace.
Private events
Quoi de mieux que de profiter d'un bon vin en toute intimité ? Vidivino se rend chez vous pour vous faire profiter de nos ateliers 100% sur-mesure. Les vignes d'Alsace dans votre salon ou jardin ! Profitez de nos animations dégustation à domicile.
Home tasting
A wine tasting at home tempting you? Discover our tasting offers at home and share an experience rich in flavors with those around you!
Discover this offer
→ Discover this offer !
Discover our Wine Incentive Events.
Are you planning a seminar, a team building event or a gala night? Are you looking for an original concept, which will encourage the group to interact and which will stay in people's memories? Vidivino organises exciting events at the heart of the wine region, built around the values of excellence of Wine and the French art of living.

→ Discover our unusual activities!
Discover Our Original Events
Vidivino creates original experiences around wine. Designed to bring wine to the Arts - two worlds, seemingly very far apart - Vidivino Originals are available by booking only. Keep up to date!

---
DISCOVER OUR CIRCUITS

Choose your departure city